This website is under construction.
is a must-have for anyone interested in fantastic art and traditional oil painting techniques, from the amateur to the professional fine artist.
This unique volume offers invaluable tips for both amateur and professional painters on traditional methods that many schools do not teach today. Lavishly illustrated throughout, with nearly 300 color images, including detailed instructions and step-by-step tutorials.
- Covers every aspect of the creative process, from the idea to the finished painting.
- Describes all the working method in a clear, concise manner
- Features an updated version of the painting techniques used by the Old Masters
From the back cover:
Learn how to paint your masterpieces based on the techniques of the Old Masters. This book will guide you step by step from the idea to the finished painting by providing a tested method thanks to years of experience.
Click and purchase the English Edition on Amazon.it



A must have for fantasy illustrators and professional fine artists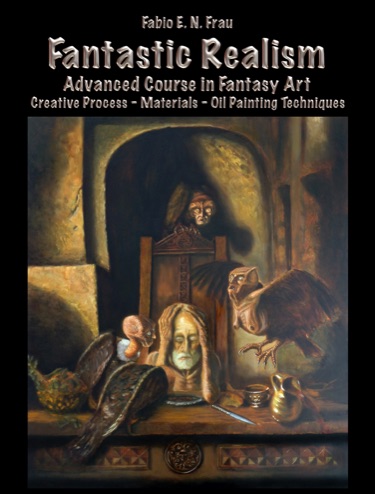 Paperback / 2015 / $ 23.99 / £ 15.99 / € 20.99 / ISBN 978-1505913637 / 168 pp. / 8,5" X 11" (21.59 x 27.94 cm) / 290 color illus. 7 line illus.
Fantastic Realism
Advanced Course in Fantasy Art
Creative Process - Materials - Oil Painting Techniques
Fabio E. N. Frau, translated by Holly Nathan
Click and purchase the English Edition on Amazon.co.uk
Click and purchase the English Edition on Amazon.com



Click and purchase the English Edition on Amazon.de
Click and purchase the English Edition on Amazon.fr
Click and purchase the English Edition on Amazon.es